Window Treatment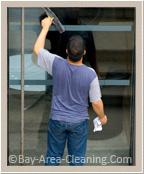 Blinds are probably the easiest window treatment to clean. In many cases, they are made of plastic or metal, and can easily be removed for cleaning. If your blinds fit this description, then make it a habit to take them down at least three times a year and simply wash them in your bathtub, then hang to dry. In between washings, a vacuum, a damp rag or a dust mop will keep the dust at bay.
Wooden Blinds
Wooden blinds respond well to regular dusting, but should not be washed with a lot of water. Instead, after vacuuming or dusting to remove loose, surface dust, hand wash each slat using a sponge or rag that has been lightly damped with diluted dish washing liquid. You will need to clean the rag or sponge often. You will also need to take special care to clean both sides of each slat.
Curtains and Drapes
Maintaining curtains and drapes entails regular vacuuming using the brush attachment and low suction. In most cases, this can be done without removing the window treatment. Sweeping your window treatment before vacuuming boosts any cleaning session. In addition to regular maintenance, your curtains and drapes require deep cleaning at least once a year. Curtains and drapes come in a wide variety of fabrics, fibers, styles and sizes, and each type of window treatment should be cleaned accordingly.
Window treatments that cover small windows are often small themselves. In many cases, these smaller curtains or drapes can be easily removed and washed in a home washing machine. Surprisingly, many sheer curtains fall into this category of easy care window treatments.
Window Treatment Cleaning Methods
In most cases, however, window treatments require more specialized cleaning methods, such as dry cleaning or steam cleaning. If either of these methods are recommended by the manufacturer of your window treatment, experimenting with other methods can be very costly, and might result in permanent damage to your window treatment. Call on the professionals of bay area cleaning at 888-397-8423 - We will come to your premises, remove the window treatment for off site cleaning and then re-hang them.