Water/Fire Damage Restoration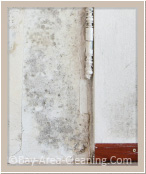 Water and fire are two essential elements of modern life - but if they get even slightly out of control, the effect can be far reaching.
Side Effects of Water Damage:
Bacterial growth
Fungal growth
Mold
Mildew
When most people hear the term water damage, they immediately think of floods and sewage overflows. But the truth is, the term can refer to any over wetting that compromises house structures and interiors. Carpets or upholstery left over-damp or wet by improper cleaning can begin to mildew and rot. A wet spot on the ceiling, regardless of its source (leak in the roof, the tub upstairs overflowed, or from a slow leaking pipe, for example) can not only cause the ceiling paint to discolor and chip, it can also indicate structural rot or mold growth. And while we're on the topic of health hazards, such as mold, the repercussions of a sewage backup, standing water or a flood are not pretty.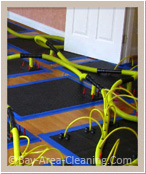 The first step in water damage restoration is, of course, stopping the flow of water. The second step is removing the water - in the aftermath of a flooding situation, this can mean the use of pumps, siphons or some other mechanism to quickly move large quantities of water. Removing excessive moisture (rather than excessive wetness) is a more delicate, more difficult procedure, best left to professionals that specialize in water extraction and restoration. They will bring in powerful extraction equipment, dehumidifiers, and air blowers. They also come equipped with special water detectors, which can find water hidden in areas not visible to the eye (such as inside walls, under carpets and in furniture upholstery).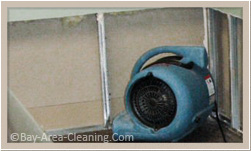 Fire damage is also more far reaching than the obvious loss of property and discoloration. If you're dealing with the aftermath of a fire, you're dealing with loss of property, soot, odors from smoke, and the inevitable aftermath of the extinguishing process - water damage. The best advice you'll ever get is to find a reputable organization that specializes fire damage and water damage restoration. They have the knowledge, experience and equipment to help you get back on your feet, with as many as your original possessions as possible. Many professional water and fire damage restoration service providers also provide insurance liaison services.
The steps you can take to battle water and fire damage are:

Remove as much visible water as possible
Ventilate - open windows and, if your electrical system hasn't been compromised, turn on the vents. Alternatively, you can bring in fans, air blowers and dehumidifiers.
Remove any wet, removable items to an area more conducive to drying. This is especially important for carpets and rugs.
Call bay-area-cleaning.com at 888-397-8423 for 24/7 emergency service and for more information about fire and water damage restoration services.