Upholstery Cleaning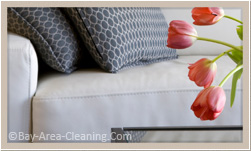 Furniture can be upholstered in practically any kind of fabric or fiber. Regardless of the type of upholstery you've chosen for your furniture - fabric, plastic or leather, for example - it needs to be handled properly for maximum wear.
A vacuum cleaner is an essential upholstery cleaning tool - even for smooth surfaces like plastic and leather. Though you can easily wipe off any surface dust from these types of upholstery fabric, only a vacuum cleaner - equipped with the proper attachment, of course, will allow you to remove dust from those areas that are not usually seen. At least once a month, you should take special care to clean the undersides of cushions, furniture bases, bottoms and backs, and of course, between cushions and deep down into any crevices.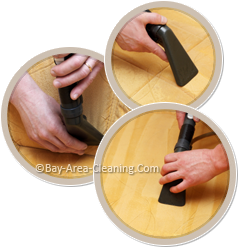 But when it comes to deep cleaning your upholstery, vacuuming is far from enough. Vacuuming only removes dirt and dust. It does nothing to battle mites, or to remove the natural build up of upholstery pollutants, such as sloughed skin cells, pet dander, body oils and more. The only way to battle this kind of build-up is to hire a professional upholstery cleaning organization. Professional upholstery cleaning is actually recommended by many furniture manufacturers as a vital step in preserving your upholstery.
Upholstery cleaning usually follows this basic course of action:
Upholstery is inspected for problem areas, such as stains, spots, discoloration or wear.

Spots and stains are often pretreated for maximum removal success.
Discoloration and other signs of wear may or may not be treatable. Make sure that the results you expect are attainable by requesting an explanation of how these areas will be dealt.

Surface dirt and dust are removed from every surface using high suction vacuums. This step may involve brushing the furniture before vacuuming and, of course, removing any removable cushions for full access.

Brushing is a critical step, especially in rooms where animals roam free. Animal hair is notoriously difficult to remove with mere vacuuming. Brushing first, preferably with a brush with rubber bristles, will remove most pet (and human) hair that vacuums are sure to miss.
Down filled upholstery should not be vacuumed at all, it should only be brushed.

Deep cleaning is often conducted using a method similar to that used for deep cleaning carpets - water extraction (also called steam cleaning). In this method, hot or cold steam is applied to the fabric to loosen embedded dirt, which is simultaneously removed (along with any moisture) by extraction vacuums. An alternative method uses carbonation or encapsulated cleaning chemicals to lift out dirt.
Call Bay Area Cleaning for more upholstery cleaning information at 888-397-8423 and we will be glad to help you.