Move In Move Out Cleaning Services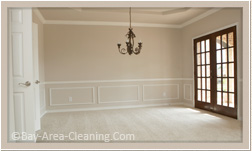 Move in move out cleaning maximizes the value of your property by revitalizing interiors in record time. Carpets, kitchens, bathrooms, windows and window treatments, even walls and ceilings, appliances and furniture will look as clean and as fresh as can be, which makes them that much more attractive to prospective buyers or renters.
What services are included?
Whether you're a renter who wants to a full refund on their cleaning deposit, or a property owner/manager who wants to maximize income by minimizing the time between rentals, Move In Move Out cleaning sessions at Bay Area Cleaning can be customized to meet your specific needs. Standard Move In Move Out packages might include:
Carpet steam cleaning using powerful truck mounted steam cleaning (extraction) equipment. This process not only rids carpets of embedded dirt, it also rids carpets of most odors and efficiently removes common spots. Steam cleaning grants new life to tired looking carpets, and can keep them in service longer. Ask about special stain removal and pet odor removal services, if necessary.
Kitchen cleaning, which includes cupboard cleaning, stove top and oven cleaning, mopping and door and door frame cleaning, leaves the kitchen sparkling and odor free. An inviting kitchen is always a good selling point.
General cleaning of all rooms includes sweeping, vacuuming, mopping and dusting, as well as cobweb removal and a thorough dusting of visible air vents and doors/door frames.
Windows - and window frames - are, of course, included in the basic price of Move In Move Out Cleaning.
Bathroom cleaning is, of course, critical. Surfaces are wiped down with disinfectant and toilets are cleaned.
Additional add on services include: furniture and upholstery cleaning, odor removal, rubbish removal, outdoor cleaning and wall or ceiling cleaning.
Who needs Move In Move Out Cleaning Services?
Renters use the service to reclaim their cleaning deposit;
Property managers hire cleaning crews to attract new tenants;
New home owners clean away traces of the previous owners;
Contractors finish the job by making sure the job looks finished, as move in move out cleaning crews cart away debris and polish away all traces of the build or renovation.
Renters - reclaim as much of your deposit as possible by having the space thoroughly cleaned by professionals.
Property manager and landlords: attract new tenants quickly once with interiors that look new and smell fresh.
New home owners will want professionals to give their new residence a once over, erasing all signs (and smells) left by the previous inhabitants.
Contractors have enough to deal with when finishing a build or a remodel. Move In Move Out cleaning for Contractors provides the finishing touch - including rubbish removal and polishing in addition to standard services.