Grout Cleaning
Discoloration and cracking are just two sure fire indications that somebody's been mistreating their grout. They are also early warning signs indicating that expensive repairs may be needed in the not so distant future. But if you catch your grout problems in time - or avoid them altogether by following proper tile and grout cleaning protocol - your grout can service you for many, many years.
First things first. Grout is the porous materials used to fill in the gaps between tiles. No matter where your tiles are installed, the spaces between them will be filled with grout, preferably tinted in a complimentary color. Clear, straight grout lines add the finishing touch to any tiling job. In fact, a good way to save on home improvement costs is to repair or restore grout rather than replace tiles.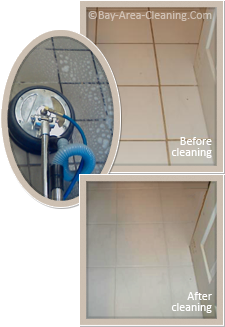 Grout cleaning must be both rigorous and gentle. Gentle because of the nature of grout - if you use products that are too harsh, or if you use too much force, you can do more damage than good. It must be rigorous because grout discoloration and degradation is often caused by bacterial infection of one sort or another - mold, mildew, fungus and the like.
Professional Cleaning Services
The easiest way to clean your grout is to hire a professional service provider to do it for you. Bay Area Cleaning - Professional grout cleaners offer additional value added services, such as grout restoration and grout sealing, not to mention cleaning packages that afford discounts for ordering more several same-day cleaning services.
Grout Cleaning Process
We at Bay Area Cleaning use commercial grade equipment to eradicate mold, mildew, fungus and bacteria from tile and grout. Though we pre-treat problem spots as required, the actual cleaning process is a variation on steam cleaning. While high pressured jets of steam are used to clean carpets and upholstery, the force might damage grout. For this reason, our professionals apply steam using low pressure. Steam is a natural disinfectant, which also has deodorizing properties. Even so, Bay Area Cleaning professionals are equipped with anti-fungal treatments for those cases that require them.

It should be noted that while wiping down tile surfaces with a damp mop, rag or towel is the best way for consumers to maintain cleanliness, it is not enough for grout cleaning. Grout absorbs cleaning solutions, and the use of low pressure steam allows cleaners to remove all product - and dirt - from the tile and grout.
At the end of the cleaning process, you should probably have a grout sealer applied. Sealer can protect your grout for up to five years, or so.
Call bay-area-cleaning.com at 888-397-8423 for a free estimate and detailed information about our cleaning process and methods.