Auto Interior Cleaning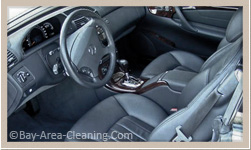 Has anyone ever told you that looks aren't important? You can believe that if you want to, but if you've ever tried to sell a car, you know that for many potential buyers, how good it looks is as important as how well it runs. So if you're not taking good care of your auto interior for yourself, take good care of it so that the next person to buy it will be willing to pay top dollar.
Auto interior cleaning entails a few basic actions: brushing, vacuuming, wiping and washing.
Brushing
The first step in auto interior cleaning is brushing the seat upholstery and carpets to loosen any embedded dirt or dust. This is an important step. Hair and animal fur are among the most common types of dirt found in car interiors. Hair and fur strands easily become entangled with carpet and fabric fibers, making it near impossible to vacuum them away without brushing first.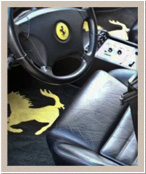 Before brushing, car mats should be removed so that they can be washed and dried separately, and to provide access to the floor of the car.
Vacuuming
Now that the floor mats are gone and the floors and seats have been brushed, it's time to get busy vacuuming. But first, make sure that you have the right attachments for your vacuum. You will need a long nose attachment for vacuuming under the seats and around the pedals. This attachment is also used for vacuuming between seats and between crevices - especially in the back seat.
You will need a soft brush attachment for vacuuming the doors and the dashboard. When vacuuming these areas, take care not to scratch or damage any of the various knobs and switches. Don't worry about the really tight spaces - you'll get them in the next step.
Caution: Though most car upholstery fabric is strong enough to take a beating, leather upholstery is somewhat delicate. Take special care not to scratch or tear the leather when vacuuming.
Wiping and Washing
Car leather and vinyl need special treatment. Bay Area Cleaning professionals use a soft cloth or chamois for cleaning the hard surfaces inside cars. We also recommend using special products developed just for this use. In many cases, however, a damp soft cloth is all you need. Avoid oily treatments - they can leave behind a slippery film that attracts dirt.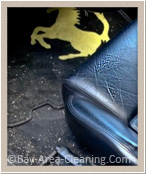 Upholstery cleaning
Steam cleaning is the best way to get your car upholstery really clean. If you don't want to invest in professional auto interior cleaning such as Bay Area Cleaning, you can probably get by with spot treating problem areas using a commercial sold car upholstery cleaning product. Be sure to read all instructions and spot test before applying to large area of your car's upholstery.
Call Bay Area Cleaning at 888-397-8423 for detailed information about our auto interior cleaning.